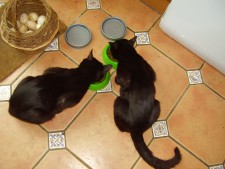 Vaccination protects against serious and often fatal diseases,  Kittens, when they are small, gain immunity from their mothers.   However, they can meet other cats and go outside after their vaccination has taken effect.  They have their first vaccinations from10 weeks of age.  The second part of the vaccine is given three weeks later.
Booster vaccinations are given every year, to keep the immunity up to date.  Reminders for these can be sent by email or post, as requested.
Vaccinations are against:
Cat "Flu" – Feline Upper Respiratory Tract Disease;
Infectious Enteritis;
Feline Leukaemia;
Chlamydia Felis;
Rabies – mandatory if you wish to take your cat abroad.