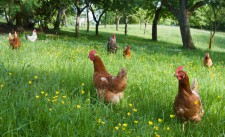 Keeping chickens is becoming increasingly popular and its not surprising.  The pleasure of watching hens pecking around in your garden, getting rid of garden pests and providing you with fresh free range eggs every day should not be underestimated!  They are fun and comparitively easy to keep.
There is a wealth of advice regarding caring for your poultry, but we can give you a few pointers here.
HOUSING
Chicken houses come in all different shapes and sizes.  You can use an old garden shed  or make your own coop.  The roof should be covered with a proprietory felting to protect from bad weather.  The wood should be proofed also.
The hens need a roosting pole to perch on at night.  (one young client suggested the hens looked like they were in bunk beds!). A rounded pole is better for the hens feet to grip on.
It is good to have a window,  with mesh rather than perspex, for better ventilation. The window should be away from the prevailing wind, though.
A removable droppings board under the perch can help mucking out, which should be done weekly.
Wood shavings make good bedding for the floor of the hen house, as they is less likely to harbour parasites.
A small area for nest boxes can be built on the side of the hen house.  Nest boxes can be lined with clean straw, changed frequently.  Hens prefer to lay in quiet areas, so nest boxes are ideal.
FOOD
Layers pellets are widely available from agricultural stores.  Chick crumbs should be fed to young birds, up to 8 weeks old. As they get bigger, growers pellets can be used until they start laying, when they will need to go on to Layers pellets.  This normally has a 14-16% protein ration, needed for good egg production.  Also, shell and grit should be available in a small feeder as an extra for laying hens, to help good shell quality.
Water should be given fresh every day.
Drinkers and feeders area available from many local wholesalers.