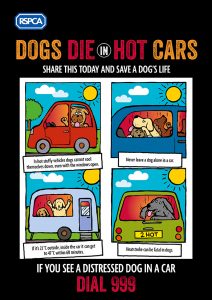 We all love to get outside and enjoy the summer sun but it is essential to remember that for our furry friends, this time of year is not quite as much fun.
Many organisations are now working together to remind owners of the importance of keeping your dog happy and safe in the warm weather. We have picked a few of their handy tips to make sure you know what to do in an emergency.
When helping a dog in distress in a hot car:
Establish the animal's health condition. If it is showing signs of heatstroke, dial 999 immediately.
If the police are too far away, do not break into the car as this may be seen as criminal damage. Try to find another course of action first, such as making an announcement over a store's loudspeaker.
If the car must be broken into, tell the police what you are doing and then collect evidence e.g. pictures and videos of the dog in distress.
Once the dog is removed from the car, follow the RSPCA's emergency first aid guide on the link here.
For information on what to do if the dog isn't showing signs of heatstroke but you are still concerned of its welfare, see the page here.
For more information on looking after your dog in the summer, click here.