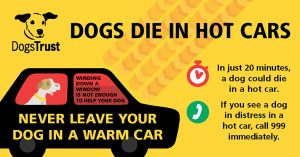 If you find a dog in a hot car and it is not showing signs of heatstroke, please follow the steps below:
– Try to establish how long the dog has been in the car. Look for a 'pay and display ticket' or any other tell-tale signs which may give you a clear indication.
– Make a note of the car registration number plate. If the owner returns, but you still feel the situation was (or could have been) dangerous for the dog, you can still report the incident to the police. Take pictures as evidence if necessary.
– If possible, ask shop, venue or event staff to make an announcement to alert the owner of the situation.
– If you must leave for any reason, try to find somebody else who can stay with the dog to monitor its condition until the owner returns. Brief them on what to do and let them know that if the dog's condition becomes worse, they should be prepared to dial 999.
The RSPCA also has a 24hr cruelty line for advice on 0300 1234 999. However, if the dog is in serious danger, calling the police should always be the first step.